Stop Over in Macau For Food, Culture and Luxury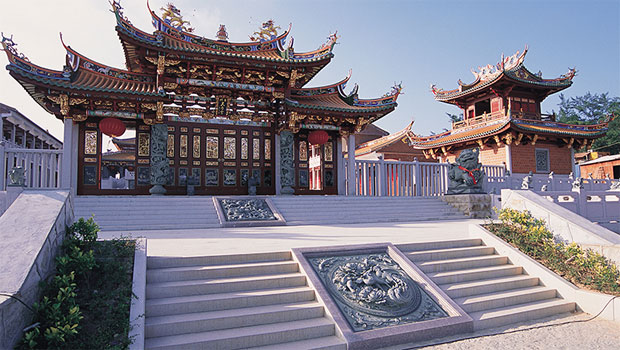 Rarely has the cultural collision of East and West been as evident elsewhere in the world as it is in Macau. For nearly half a millennium, this Special Administration Region of China has been a fascination melting pot of Chinese and European influences.  Visitors to modern Macau will find plenty of this still of this mix today, alongside a frequently spectacular sprinkling of contemporary style.
Macau provides a cornucopia of culinary delights, great shopping, breathtaking shows and a unique fusion of cultures, in a setting dripping with historical charm and all the glamour you would expect from one of the jewels in the East's luxury crown.
Traditionally Macau has been a popular day trip from nearby Hong Kong, though today it attracts visitors in the know looking for a unique extension to a Far East trip or even a feature-packed one-night stopover en route to Australia.  And while Macau has become known for its glamorous casinos, there is so much more to this beguiling place, where East and West have been dancing a merry jig for centuries.
A former Chinese trading gate at the mouth of the Pearl River, Macau rose to prominence with the arrival of Portuguese merchants in the mid-16th century, who established the city as a major point of trade between East and West.  The Portuguese handed sovereignty back to the Chinese in 1999, and influence of both cultures can still be seen today in Macau, from architecture and customs to cuisine.
For instance, a stroll around the Historic Centre of Macau, named as a UNESCO World Heritage site in 2005, is a rewarding eye-opener.  It comprises of over 20 buildings and monuments, ranging from Taoist temples and 17th century fortresses to baroque churches and more traditional Chinese houses.  The Ruins of St. Paul's church and the elegant Sennado Square are iconic highlights.
Coupled with the unusual make up of its history, the cuisine in Macau is similarly diverse – and legendary, for those in the know.  From Michelin-starred restaurants to local cafes, there really is something for all tastes. Macanese cuisine is founded on Portuguese and Chinese recipes, but in addition – and thanks to its centuries-old standing as a trading post – there are sprinkling of influence from as far afield as India and South America.
Seafood – especially cod, crab and sardines – plays a big part in local cuisine and can be found on most menus alongside chicken, duck and rabbit dishes.  Famous dishes include Galinha a Portuguesa, Galinha a Africana, Bacalhau, Macanese chilli shrimps, stir-fry curry crab and pork chop bun. The cuisine's unique heritage is evident in the use of spices, such as chilli, turmeric and coconut.
Another sweet treat which should not be missed is the famous pasties de nata, or Portuguese egg custard tart.  It is Macau's most famous snack, and it's not just the tourist who can be spotted tucking in. One of the best places to sample this local delight is at Lord Stow's Bakery, set up in 1989 by the late Englishman Andrew Stow.  His spirit is kept alive by his sister Eileen, who runs the bakery in Coloane today.
Finding the right place to base yourself is vital in a city, and Macau has more options than most, from the biggest international names in luxury hospitality, including Four Seasons, Mandarin, Oriental and Grand Hyatt, to welcoming pousadas (guest-houses) with Portuguese flavour.
Fortunately, shoppers will find themselves just at home in Macau as lovers of food and culture.  In keeping with the rest of the city, modern and traditional sit side-by-side, from luxury boutique paradise at one of Macau's many luxury malls to bustling markets selling local goods such as antiques, art, furniture, cashmere, silk and porcelain goods.  Once you have done enough shopping, Macau offers an array of pampering options, including the Six Senses spa at the MGM Macau, the Banyan Tree and spa and the spa at the Mandarin Oriental.
Nightlife options are plentiful in Macau, and there are a number of trendy bars and cutting-edge nightclubs – and of course the casinos.  Shows are very popular here, and few Asian destinations can beat it for sheer entertainment value.  Take, the House of Dancing Water, which is showcase in the City of Dreams theatre.  Developed by Franco Dragone, the man behind Cirque du Soleil's most spectacular productions, it features breathtaking high-wire acrobatic stunts, fountain effects and even somersaulting motorcycles.
For more adrenaline-pumping action, perhaps the best time to visit is when the motor racing comes to town in November. The Macau Grand Prix is the biggest event in the city's calendar, and some streets in the peninsula are converted to a racetrack bearing similarities with the Monaco Grand Prix.
Another event worth seeing is the annual International Fireworks Display Contest, which takes place in September. It is one of the largest events of its kind in the world. The contest sees ten teams from across the globe compete to light up the night sky with the most spectacular fireworks show.
Other annual events of note include the Macau Arts festival in March, the International Music festival in October and the Lunar Chinese New Year, the most important traditional festival, with its vibrant and colourful parade.  Chinese New Year usually takes place in January or early February.
But whenever you visit, you'll find a metropolis full of energy and excitement; a place where East and West collide to dazzling effect.  From luxury sanctuaries to Taoist temples, and traditional markets to Michelin-starred restaurants, Macau has something for everyone. No wonder those first Portuguese visitors stayed for over 450 years :-)