Cuba – Another Gem of The Caribbean
Posted on: 8 April 2018
By:

Senichi
Being driven around the bustling, cobbled streets of Havana in an ancient, but beautifully preserved 1950s Cadillac, Chevrolet or Oldsmobile, you feel like you have entered a different era.  It's not just the unusual combination of grey Soviet-era brutalist architecture juxtaposed with gems such as the Gran Teatro (lit up at night it is a marvel).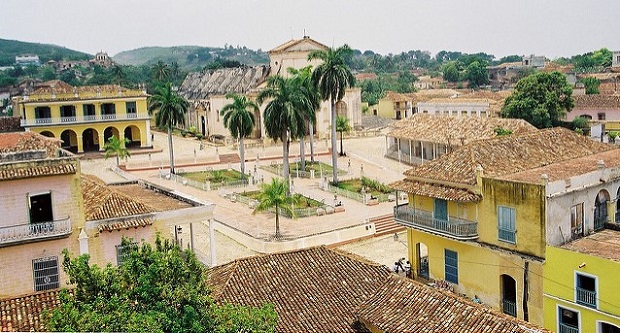 Nor is it the contrast between the seemingly endless and wide Malecon waterfront, with the blank canvas of the ocean beyond, and warren of sheltered and shady old town streets were crumbling facades defy gravity thanks to the ingenuity of the population and plenty of wooden props.
No, what really makes you feel that you are in a different time to the rest of the world  are the people.  Habaneros take life at a slower pace as they relax in the shade of one of the many Colonial-era grand squares or sit on a doorstep smoking a legendary fat Cuban cigar.  Instead of being glued to their smart-phone screens, they have time to wave, stop and chat.
And rather than being plugged into earphones 24/7, they like their music live and their fast food fresh churros are deep fried on street corners.  All this takes place to a soundtrack of salsa which seems to be pumping out of bar and cafe, setting the happy-go-lucky rhythm of this cultural gem of a city.
While some of the most magnificent buildings and squares – such as the Old Square and Cathedral Square as well as the Prado (a must if you wish to browse local artwork) – have been restored to their former glory, much of Havana is still timeworn; slightly ramshackle and very much lived in, which only adds to its charm.
Cuba was acknowledged as the Safest County for Tourism in FITUR 2018, but it should have also been given the award for being the friendliest.
Its people will go out of their way to show you where to find the iconic Tropicana Club, with its famous dancing girls and lush gardens, or point you in the direction of more edgy night venues such as the Art Factory.
As you sip mojitos at La Bodeguita del Medio – a favourite of Ernest Hemingway – or tour the book market, you cannot fail to be enchanted.
If you are lucky, you might even get invited into one of the many bars set up in people's homes – just a few tables and the obligatory rum.
However while Havana has to top the list of places to visit in Cuba, you will really miss out if do not venture further afield.
If you have flown into Havana, it's a relatively quick car ride to the virgin rainforest, which is a total contrast to the city. The vast, untouched, unspoilt landscape of the Vinales Valley can be explored by bicycle or even on horseback as you take in traditional tobacco farms, caves and rustic villages and the magnificent mountains beyond.
Another easy trip is to El Nicho, a series of beautiful waterfalls and clear, cool natural pools for a swim surrounded by lush nature.
The beaches are another highlight of any trip to Cuba. Varadero is famed for its vast stretch of unspoilt sugar-white sand stretching 20 kilometres into the horizon as well as its pristine, warm crystal-clear turquoise waters.
As you relax under your palm umbrella, being served chilled drinks from the beach-front bar, the word paradise will soon spring to mind.
Here you will find luxury all-inclusive resorts, with swim-up bars, spas, dining terraces and, of course, friendly hospitality and local live bands in the evening.
Venture into the town for a more authentic evening of local food, music and dancing. And don't worry about getting lost – people are more than happy to show you the way, and practically every old-world American car is a taxi.
Alternatively, enjoy a barefoot castaway experience on one of the cays off the Northern coast, such as Cayo Santa Maria, a sleepy island famed for its snorkelling and ping down to the world's second largest barrier reef.
Come face-to-face with turtles and barracudas as you experience the natural wonders underwater, which some say rival the Great Barrier Reef.
Another Cayo along the Jardines de Rey – which is easy to reach along the giant causeway which links it to the mainland – is Cayo Coco, with its lagoons, native pink flamingos and luxury resorts.
If you are travelling as a family there are plenty of child-friendly hotels across the main Cuban resorts, with entertainment laid on for all ages. For a touch of romance, check into one that is child-free and stroll hand-in-hand along the beach as the sun sets.
EXPERIENCE MORE 
After enjoying the delights of Havana and the northern part of the island, why not take a plane, train or even self-drive to see some of the lesser known – but equally magnificent – sights and delights.
Take Holguin, the fourth-largest city, which barely features on the tourist map and is full of authentic, provincial charm. Once again, there are the lovingly-restored vintage Chevys, the shaded squares, the churches, bicycle taxis and the highlight – if you are fit – the 485-step climb to the top of Loma de la Cruz, with its cross and spectacular views. Visit during the Las Romerias de Mavo to enjoy the open-air festival.
The beaches on the Holguin coast include Guardalavaca, known for its emerald green waters, coral reefs and pristine fine white sand.
Alternatively, head to Trinidad, on the southern coast of central Cuba, which is the island's best-preserved colonial town, with the old part a UNESCO heritage site.  Brightly coloured buildings, cobblestone streets, the neo-baroque Plaza Mayor surrounded by grand buildings and a stunning 19th century cathedral are all worth exploring (and photographing).  Don't miss the hundreds of waterfalls within an hour's drive of Trinidad, including the 75-metre Salto Del Caburni.
Culture lovers should head to Santiago de Cuba, which has a more Afro-Caribbean feel and is the birthplace of son music, a precursor of salsa. This city was the cradle of the Revolution and offers plenty of history and heritage. Visit in July for Carnival time.
Finally at the far tip of Cuba from Havana is Baracoa, probably the island's best-kept secret.  While politics preserved Cuba in a time capsule, it is nature that has kept this town unspoilt and authentic.  Surrounded by jungle-covered mountains, it really is an Eden with rivers winding their way down through the town to the azure ocean where you can enjoy red snapper, swordfish and lobster at a beach shack on Playa Maguana. This is also the home of Cuban chocolate and the place to enjoy coconut delights, such as ice cream.
No wonder Christopher Columbus was enchanted by Baracoa, setting up the first capital here.  If you do not want to miss any of these unique sights, why not take a road trip from Havana via Santiago de Cuba, home of the Che Guevera mausoleum, and Trinidad, historical Camaguey (another UNESCO World Heritage Site) down to Baracoa. Alternatively, you could just kick of your flip flops, lie back on your lounger and simply relax.
TRY SOME AUTHENTIC STAYS 
A night in a casa particular, a room in a Cuban home. Recognised by a sign of two blue triangles against a white background, these B&Bs usually offer breakfast in the price and the hosts will give you a taste of the real Cuba as well as the locals' inside knowledge.
A memorable stay in a restored old-world Colonial hotel or palace in the heart of historic Havana, where you can relax in the inner court yard before stepping out into the bustling city.
Or a unique experience in Las Terrazas in the heart of a biosphere reserve where the Moka hotel lobby is built around a large lime tree and the branches literally grow through the rooms and balconies. While you sit in your deep bath tub you will feel rather exposed – separated from the foliage by nothing but giant glass wall. From here you can zipwire across the canopy of the forest and take a dip in the pool of a nearby waterfall.