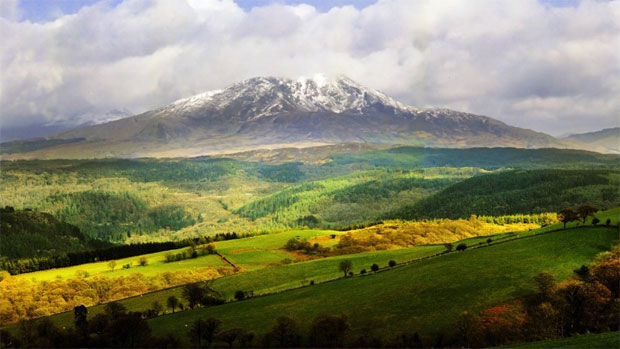 The Snowdonia National Park, more so Mount Snowdon is one of Wales most visited attractions.  Located in north-west Wales Snowdon is said to be one of the wonders of Wales by Wales former first minister Rhodri Morgan, the band Doves has also name a song after it.
The journey to the summit can take one of 11 establish routes, hence Snowdon is nicknamed Britain's busiest mountain, three of which are the Pyg track, Miners track and Train track, all varying in time and distance.
Depending on your route to the summith the scenery varies so is the experience. On one side it is lush and green and different on the others.  The miner's route is very scenic with lakes and twisted ridges.
The area offers a camping plus there is the YHA (yha.org.uk).  A good time to visit is early spring and autumn, when the trees have no leaves.
If you are in Snowdonia for more than one day why not explore the rest of the national park, Tryfan and Glyderau are worth a visit more challenging though. They also, now have Europe's longest zip wire ride.