In the northeast of Spain and onwards to Andorra and France are the Pyrenees, where the altitude and prices are generally lower. On the other hand, the Alps are iconic and well known. Some of the best skiing in the world is found in this dizzyingly picturesque European mountain range (its 1,200km cross Austria, France, Italy, Switzerland, Liechtenstein and Slovenia). So, whether you are looking for a bargain, uncharted slopes, somewhere to take the children or just a great meal up the side of a mountain. We have found 11 that will suite everyone's budget in the Pyrenees and the Alps.
SAINT-LARY RESORT FRANCE (BEST FOR FAMILIES)
Children love stoke parks, especially the ones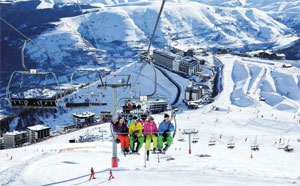 with seemingly scary jumps and obstacles.  Here, Kidpark for under-12s has 'woops'  (mini-mobuls), a half-pipe and animal characters.  The gentlest slopes are an easy walk from the village.  Saint-Lary is an easy to navigate resort geared towards families.  You'll end the days happily exhausted. January to February is best, though recently the snow has been good from December through to the end of March.
BAREGES RESORT FRANCE (BEST FOR QUIRKYNESS)
This is one for Stargazers.  The Pic du Midi is famous for its observatory, the highest in western Europe, sitting at a height of 2,877m.  In 1963 NASA funded the telescope here to take pictures of the moon's surface in preparation for the Apollo missions.  Beginners and intermediates wanting an authentic Pyrenean experience and good view of the galaxy come here.
Bareges was a spa town before the arrival of ski tourism, its Cieleo Spa has hot sulphurous waters for aches and pains, good for a rough day on the slopes;  it's at its snowy best in January and February.
SOLDEU RESORT, ANDORRA (FOR BEST VALUE)
You can shop duty-free here.  When it comes to alcohol in particular (including in bars and restaurants), you really feel the savings. Beginners and intermediates skiers from France and Spain dominate the thrifty crowd here.  It may by cheap but this is a contemporary ski resort with with a state-of-the-art lift system. Soldeu is part of the Grandvalira ski area, linked with EI Tarter and Pas de La Casa, with a total of 193km of varied slopes. January to March is the best time to go.
BAQUEIRA BERET, SPAIN (BEST FOODIE RESORT)
Is Baqueira Resort one of European skiing's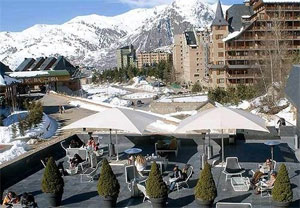 best-kept foodie secrets? Many think so, and the scenery is majestic, you would want to take your other half with you. There is 120km of piste and a good tasty mountain lunch is about 15 euro. For dinner eat for a song in one of the lower hamlets: try Era Caseta des Deth Mestre restaurant in Tredos or head to the nearby valley town of Vielha's abundant tapas bars.  Its a bit more upmarket crowd than you might think: the Spanish royal family has a home here, and the Beckhams have stayed in Hotel la Pleta. January and February are always a safe bet, but in recent years the snow has been good from December to March.
SAN CASSIANO, ITALY (BEST CLASSIC RESORT)
Stay in this descreet, pretty village to access one of the world's most fabulous ski areas with 1,220km of piste.  For the quintessential Alpine hotel experience, you really can't beat the family-run Rosa Alpina. Rub shoulders with some wel-heeled Italians who know and love the area, along with other international clientele including British, Russians, Americans and Brazilians.  As part of the Dolomites region, you can expect glorious scenery, a high standard of restaurants that don't break the bank, wow-factor hotels and excellent skiing for all standards.  You'll also find some serious off-piste, best tackled with local guide.  For the best conditions, February and the first half of March is the best time to go.
VEBIER, SWITZERLAND (BEST PARTY RESORT)
For a relatively small resort Vebier punches above its weight  when it comes to world-class nightlife.  Not the most exciting pistes in the Alps but the off-piste is steep.  You will find here expert skiers from the UK and locals. The celeb-spotting is top-notch too, from Jude Law to Prince Andrew.  You might also see Claudia Schiffer among the supermodels-on-skis. You can start your night out at I'Ice Cube bar or Le Rouge.  The T-Bar is popular with instructors and locals, while the Farinet is the place to settle down on a leather sofa with a cocktail. For something stronger, try the Casbah nightclub, the new Carve in the W Verbier and The Farm Club.  You could also ski while you're here, of course.  New Year and mid-February are the most buzzing times.
ST ANTON RESORT, AUSTRIA (BEST FOR SERIOUS SKIERS)
ST Anton is home to some of the most hardcore skiing in the Alps.  International expert skiers and snowboarders flock here.  Other fans include Vladimir Putin, Boris Becker and Colin Firth.  The Jordanian and Dutch royal families stay in Lech next door but ski here.  This ornate village has some excellent restaurants to meet the demands of its international clientele, and lively Apres-ski.  There's 276km of piste and 134 marked runs of which 30 are labelled black.  If you plan to go off-piste, book a guide from Piste to Powder (pistetopowder.com).  December to April is the ideal window.
MADESIMO, ITALY (BEST ALPS VALUE RESORT)
Madesimo is a sleep, unspoilt resort that has a good snow record and, happily affordable prices.  This is where Italians in the know holiday and it's still a down-to-earth and uncommercialised village.  You will find here Italian families who want a no-frills resort and international skiers looking for somewhere offbeat and good value.  The village is spread out and not as utterly postcard-perfect as some you'll find, but the 60km ski area goes up to a snow-sure 3,000m.  December to April is the prime time to experience Madesimo.
VAUJANY RESORT, FRANCE (BEST IN THE ALPS FOR FOODIE)
Vaugany is a farming hamlet that is linked into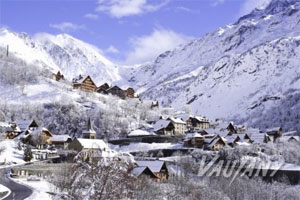 the Alpe d'Huez ski area, hence the particularly high calibre of the restaurants on the slopes.  But the secret of the finest cuisine here is hidden away in the British-run chalet that equals, or even beats many Michelin-starred restaurants, Chalet Saska.  You may meet here foodie families during school holidays, but otherwise it's groups of gourmets who want to ski hard.  Vaujany is a small off-the-beaten-track resort that's sought out by those who've heard that it's a memorable place to stay.  Good food is available all year round.
LES GETS, FRANCE (BEST IN THE ALPS FOR BEGINNERS)
Les Gets is an attractive Savoyard village, and forms part of the 400-mile Portes du Soleil ski area straddling  the Franco-Swiss border.  Whatever your age and ability, this low-key resort couldn't be more convenient, as it has three British ski schools and a choice of catered chalets.  The ultimate piste-side retreat for parents and children is Altitude Lodge, which has ski-in ski-out with nine bedrooms, a playroom, multimedia room and nannies on hand. January to March is an ideal time to visit.
COURCHEVEL 1850 RESORT, FRANCE (BEST FOR LUXURY)
This babulous and expensive resort has no less than 17 five-star hotels as well as a glittering array of restaurants. You can expect to rub shoulder with Roman Abramovich (the Chelsea football club owner) who holiday here sometimes and racing-car driver Alain Prost. Expect lot of bling if you stay at 1850 level, but the lower-altitude villages are more reasonably priced.  The busy periods are in January and during the pan-European school holidays in mid-February.