Visit Walt Disney World Resort, Florida
Posted on: 26 September 2016
By:

Senichi
Explore the four theme parks and two water parks of Walt Disney World Resort in Florida, you're only just waving goodbye to you find yourself immersed in another one.  From space Mountain where you're blasted into space to chilling out at Melt-Away Bay at Disney's Typhoon Lagoon Water Park.  From experience inspired by your favourite Disney movies to thrilling attractions for all ages, with landscaped beaches and dining choices that take you round the world on a plate, and live shows by day and night - Walt Disney World is a unique combination of delights every time you visit.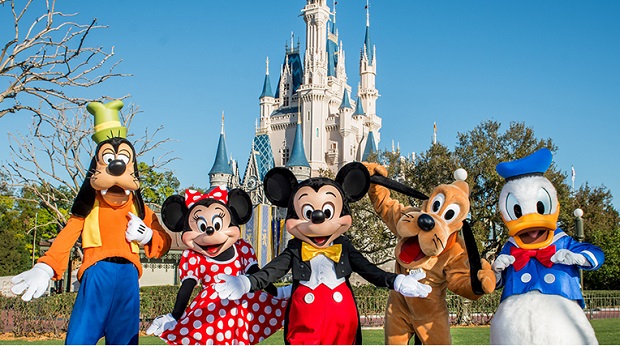 STEP INTO A WORLD OF IMAGINATION
For generations, Walt Disney World has been the one place on the planet where its playtime just how you want it - whether you're a 'Toy Story' - loving toddler or old enough to remember when 'Star Wars' hit the cinemas the first time round.
For example, if you've got an incurably adventurous kid who's all but booked him or herself on the next passenger trip to the Moon, there's 'Mission Space: journey to Mars', including a simulator in which the kids can dodge meteors and slingshot around the moon, then retreat to the Advance Training Lab for interactive debriefing.
WHEN YOU'RE KNEE-HIGH TO MICKEY MOUSE
Walt Disney World's six distinctive parks offer pursuits to appeal to all personalities.  Epcot, for example, is a world of wonder.  Two worlds. in fact: Future World bursting with technologies innovation, and World Showcase which explores the cultures and cuisines of 11 countries across the globe, from Italy to China.
We've all watched 'Finding Nemo' at 6am with our little ones, and at Epcot's The Seas with Nemo attraction, those hazy mornings all come to serenely soothing, colourful life.
Children are encouraged to be seen and heard, wherever they go.  At Disney's Hollywood Studios, they get to meet heroes from  the Disney Channel, like Princess Sofia, Doc McStuffin, and the fearless Jake and the Never Land Pirates - all appearing in Disney Junior Live on Stage.
And when little hands just want to make a sandcastle, there's Blizzard Beach Water Park and watery fun on attractions like Teamboat Springs, or simply relax on Sandy White Beach at Typhoon Lagoon Water Park.
SHARED MOMENTS BECOME TREASURED MEMORIES
A holiday at the resort will cater for the whole family.  Kids from pre-schoolers to tweens can take on Darth Vader in the Jedi Training Academy at Disney's Hollywood Studio, while the family's resident geek (talking about the parents), can spend hours peeking at real props from the film sets in the Star Wars 'Launch Bay'.  At the end of the day, get together for the night-time 'Star Wars Galactic Spectacular'; lasers, pyrotechnics and a chance to relive your favourite moments from cinema's ultimate sci-fi saga.
'Frozen' more your thing? You'll soon realise even dad knows all the words to 'Let it Go' when you set off by ship from Arendelle dock for a wintry Norwegian adventure on the brand new 'Frozen Ever After' musical tour.
In Disney's Animal Kingdom theme Park, swap sci-fi fantasy for a cultural experience in six enthralling lands. Explore the unspoilt African Savannah, taking the Kilimanjaro Safari into the Harambe Wildlife Reserve before you let your hair down on a rip-roaring tour through the jungle onboard Kali River Rapids.
DO SOMETHING DIFFERENT EVERY DAY
Disney Springs is a one-of-a-kind experience; an entertainment district with everything from a patisserie to a Cuban cafe to waterside dining.  There fashion stores for the shopaholics, like Kate Spade and Anthropologie, and music, cinema, bowling and live shows from Cirque du Soleil.
The parks are open until late and there's always something going on.  At Magic Kingdom Park, for example, you can step into the realm of fairy tales and bedtime stories, or see the enchanting spectacle of the Disney Festival of Fantasy Parade, including the Disney Princesses, Peter Pan and Wendy onboard a pirate galleon, and Mickey Mouse in a giant hot air balloon.
DROP YOUR BAG AND START RELAXING
Make the most of every moment of quality time together.  Whatever your idea of 'quality time' is.  Being able to keep your plans flexible is ideal for family travel, so go with the flow: adventure on the attractions, discovery in the reserve and relaxation at the beach at one of the water parks.
There are 100 places to eat, so you can set mealtimes to suit your family.  Join the feast at Cinderella's Royal Table, sample regional seafood at Coral Reef Restaurant, refuel on French crepes or tuck into Dino-Bites.
There are plenty of great ways to stay, including hotels with special rooms (try the Lion King suite at Disney's Art of Animation or the pirate-themed room at Disney's Caribbean Beach), plus self-catering villas at Disney's Saratoga Springs.
And when you fancy spending time closer to your hotel or villa, there are pool games, marshmallow roasting around the campfire and outdoor movie screenings.
So whatever you choose to do, you'll never miss out on the Disney magic.