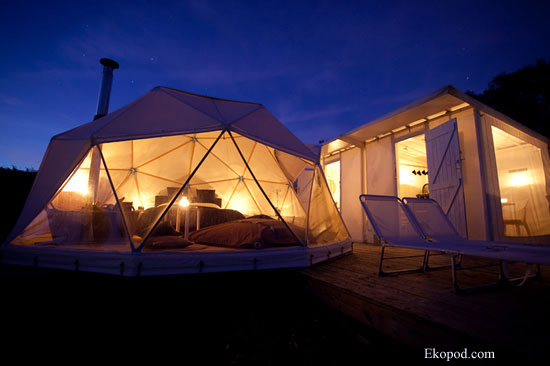 The Great British Summer pulls us out of our homes out into the outdoors but the ideas of sleeping on the ground inside a zipped up bag is not really something most of us really enjoy.  Glamping on the other hand gives us the pleasure of living under the convas enjoying lush countryside, beautiful views and a real sense of escape.  The difference, Glamping offers a bit more luxury that makes camping a bit more enjoyable from a living standpoint.  Below are list of locations where you can enjoy the Great British outdoor in style.
SUNNYBANK FORM
The Sunnybank Form Yurt Glampsite is located in beautiful Cornwall. The site has three Yurts located on it that can sleep two, four and five people.  They are decorated with traditional handmade Kazath textiles and throws. They come furnished with wood-burning stove (or Gas stove) to offer warmth and cooking, a cute hand-painted dresser with cooking utensils, pots and pans.
The smarllest yurt has a double bed, while the other two have comfortable futons. Each has its own mini-yurt toilet.  There is a shared bathroom yurt with a roll-tap bath and a solar shower.  The site is electricity-free, but there are solar lights, and in the reception area there is a freezer and power to recharge phones and iPod/iPad (cornishyurtholiday.co.uk).
MATHROWN OF MABIE
Operated by Pan Hazlehurst with husband Mike, the site is located in Scotland's Mabie Forest, Dumfries. The Roundhouse as it is called is a very special and unusual place which is a replica of how our Iron Age ancestors lived, surrounded by all the sights and sounds of the forest.  It sleeps 16 people, ideal for a group and Pam said they are happy to host a stag and hen parties.
The Roundhouse walls are made of stones to keep out the Scottish chill; the roof is thatched and in the middle sits a cosy open fire.  Outside you can enjoy the Mabie Forest to its fullest with walks and bike rides, with over 61km of trails. Alternatively, head to the chillout area where you can play football, badminton or scramble up one of two climbing walls (marthrown.com).
JOLLY DAYS LUXURY CAMPING
Jollydays is a woodsy retreat in Scrayingham Yorkshire, with 10 luxury tents; it is an ideal location for families.  Jollydays tented cottages are scattered through out the glorious North Yorkshire countryside. The tents really are the last word in glamping, with four-poster beds and chandeliers, a cosy sofa by a roaring log fire, wooden floors and private toilets.
Breakfast and supper basket can be provided. On some evenings, a guest cook will prepare a meal for those who want to gather together for supper at the lobby tent (where tea and cakes are always on offer), even though each tent has its own cooking facilities.  Close by is Flamingo Land Theme Park and Zoo an idyllic children adventure playground, with rope swings and tree houses (jollydaysluxurycamping.co.uk).
EKOPOD
The Ekopod is a low carbon camping initiative, located in the Cornish country side.  They are the first campsite to offer the Car-free camping solution, offering campers the option to take the bus or train to the Bodmin Parkway and they will pick you up and take you to the campsite. They also said there is no need to bring heavy bags full of provisions because your meals will be dropped off in the morning and evening for you to cook at your leisure.
Your pod comes complete with a king-size bed or twins, plus there is an adjoining bathroom pod with freestanding bathtub and a kitchen pod with a cooking stove and eating area.  And if its a sunny day you also have your very own private deck with sun loungers(ekopod.com).
STRATHFILLAN WIGWAMS
Located in the Scottish country side the wigwams (comfortable wooden huts) offer sleeping space for four, including removable sleeping platforms with mattresses, and electricity for light and heating. Each wigwam has its own campfire and picnic bench, along with a play area for the kids, and there is a well-equipped facility block that offers large kitchens and a spacious dinning area.
The site, which also has camping pitches and lodges, makes a great base for walking and canoeing in the Loch Lomond National Park or fishing on the River Fillan (permits are available at the campsite).
SHADOW WOODS
The enchanting Shadow Woods campsite is set in 63 acres of bluebell woodland in the heart of Billingshurst, West Sussex. You can rest in one of the site's five yurts that are nestled in the pretty Barn Meadow.
Each yurt has enough room for two people, although there is one larger yurt that fits up to four. Inside each yurt you get carpeted floor, mattress bed and even wardrobes, the site has power points and Wi-Fi. For those that are new to camping there are lessons in making fires and foraging for wild food (woodandyurting.com).