Take A Weekend Break To Jersey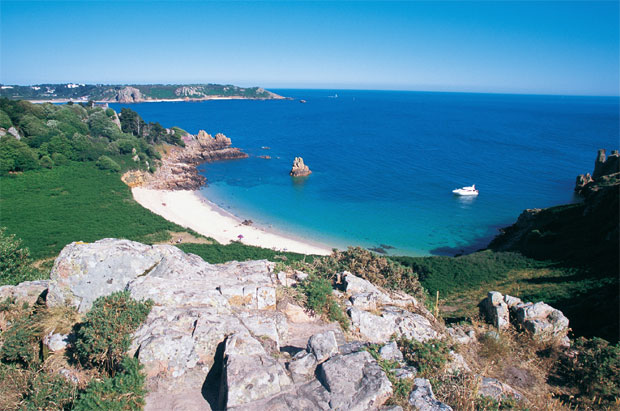 The tiny five by nine mile island off the coast of Normandy has something to boast about. Not only is it officially the warmest place in the British Isles, an island of breath-taking scenery and a unique Anglo-French culture, of luxury hotels and award-winning cuisine all framed by a crown of beautiful beaches, it also takes just under two hours to get there, from walking out the door of your London office to making footprints in the sand.
Making footprints in the sand is how many islanders start their weekends and, with over 30 exquisite beaches, you are sure to find a favourite. In the summer months locals leave work and make their way to the tranquil, sunny scene at St. Brelade's Bay, one of the southernmost beaches in the British Isles, catching the last of the sun's warm rays on the flour-soft sand.  Diners in nearby restaurants and walkers strolling along the promenade gaze out over the beach as the sun slowly sets.  For many, its charmingly quaint setting combined with the pleasing sweep of sparkling golden sand meeting the twinkling cobalt sea against a backdrop of dazzling pink sky makes St Brelade's Bay arguably the jewel of Jersey's crown.
Others wanting to get away from it all prefer Plemont Bay, a secluded cove in the north of the island, which at low tide unveils a romantic hideaway of glistening white sand and clear blue water with a stunning view of the neighbouring islands of Sark and Guernsey.  Carved into towering granite cliffs are natural sea caves and waterfalls.  Steep steps up the rock face take you to Plemont Beach Cafe for homemade scones with Jersey clotted cream for an afternoon tea with a view.
Foodies are spoilt for choice in Jersey.  The Island has rich gourmet scene that makes use of the enviable wealth of local produce.  The invigorating sea breeze and fortifying fruits de la mare have kept the Jersey population thriving for centuries.  Oysters from Royal Bay at Grouville are much-loved dish at the Oyster Box overlooking St. Brelade's Bay.  You can find hand-dived sweet scallops from Bouley Bay, lobster, chancre crab, ormers and mussels being served in restaurants throughout the Island.  But for the ultimate seafood experience visit Atlantique in St. Helier and choose the Plateau Royale 'Bonne Nuit'.
For special occasions, an evening at the award-winning Longueville Manor is an experience of gastronomic majesty. Seated in the 15th century oak-panelled dining room, you will be offered a variety of menus, one being the seven-course 'Discovery Menu' – typically three seafood courses, one meat, and three desserts each served with a carefully selected wine.  The service is second to none as you'll be waited on by at least two waiters and a sommelier.
Michelin-starred chef Shaun Rankin's opened new restaurant Ormer, designed by Martin Brudniki, whose other works include Soho Beach House Miami and Annabel's London.  Located in Don Street St. Helier, the vibrant heart of Jersey, Ormer will operate over two storeys; the main restaurant and bar on the ground floor and a luxury private dining room on the first floor complete with cigar terrace where you can mull over the selection of vintage Moet Champagne.
For post-dinner drinks with a difference, wander to The Blind Pig, located at the back of Chambers in St Helier, where you can sample experimental cocktails within opulent 1930's decor. Drink lemon meringue cocktails from pewter champagne saucers and Earl Grey daiquiris from plant pots. Visit Banjos, a former gentleman's club on Beresford Street, which offers a delicious twist to classic cocktails.
With no phrase book or currency exchange required, Jersey is the perfect weekend destination and it couldn't be easier to get there. Local airline operates regular flights to Jersey from London City Airport.