Take a Spa Break at Urban Retreat London
The thought of jetting off to warmer climates and escaping the hustle and bustle of the daily grind is irresistible. But if the practicalities of life don't allow for this, you can instead pay a visit to Urban Retreat at Harrods and discover The Moroccan Hammam marocMaroc. Here you can spend a few blissful hours leaving the outside world behind, enjoying a centuries-old treatment to sooth mind, body and soul, perfumed in exquisite surroundings.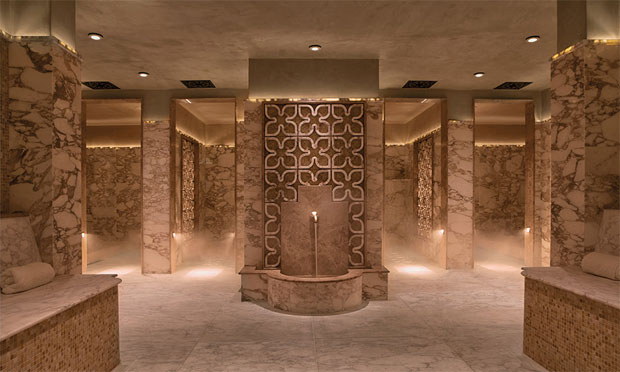 The Moroccan Mammam is a little piece of North Africa in London's most sought-after spa, Urban Retreat.  It's a place to restore a sense of tranquality, either on your own or with friends and enjoy a ritual designed not just to detox and purity but to also restore your body's equilibrium.  A place where you can revive your sprits after doing battle with the elements, to envelop yourself in clouds of hot steam and feel everyday tensions slowly ebb away.
The world 'hammam' is loosely translated as 'spreader of warmth' and the concept has been an integral part of Morrocan culture for centuries, as a way of purifying the bode before prayer, as well as freeing the spirit.  It was also a social hub and a venue for an early form of the hen party, where bride and her close female relatives and friends would go for pre-wedding ceremony.
Urban Retreat have reimagined this sacred bathing space within the luxurious surrounds of the prestigious Harrods spa, in collaboration with MarocMaroc, Morocco's premium skincare line.  All products used in the treatments are taken from the marocMaroc range.  The result is an experience akin to escaping to Morocco itself.
As one would expect from Urban Retreat, The Moroccan Hammam marocMaroc is a dreamy encounter from start to finish, complete with palatial surroundings inspired by traditional hammam furnishings.  The ritual itself begins in a heated room where the skin is moistened and the body temperature raised, boosting your immune system.
You are then led into a marble room, one of several, separated by lattice screens, where your skin will be thoroughly cleansed by a friendly Kessala (the traditional word for a personal hammam assistant) with a special soap made from nutrient-rich black olives.  This helps prepare the skin for exfoliation, carried, out with a Kessa glove to stimulate the body's circulation.
You are then treated to a stress relieving massage, after which your skin is rinsed with buckets of water for a delightfully surreal and highly therapeutic sensation like none other.
A silky brown sugar-based scrub, Miel d'Ambre is then used all over the body to slough away dead skin cells, containing natural oils to leave the skin polished and smooth.  The ritual concludes with a second relaxing massage, with gentle stretches and a revitalizing milk with orange extracts, so it's no wonder you'll emerge feeling as pampered as Cleopatra when your time is up.
You can then unwind in the opulent relaxation room and let the chaos of normal life drift away for a precious few moments.
Other sumptuous treatments for the skin and hair are available in addition to the traditional hammam experience.