Soak up the History in These 3 Southern Spanish Cities
It's impossible to understand Andalucía as is it today without considering the Moorish era that spanned more than seven centuries. Cordoba, Seville and Granada are three cities where the charm of Al-Andalus meets that of modern Andalusian culture.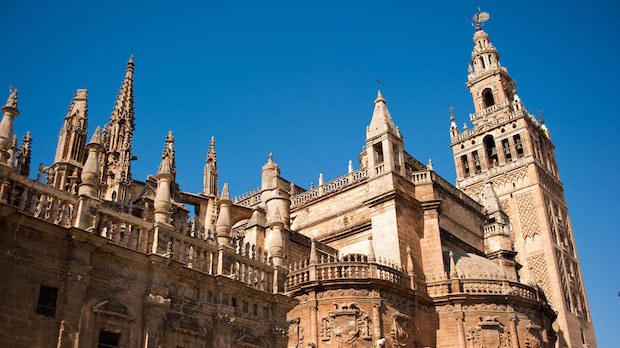 SEVILLE 
Seville spent several hundred years under Moorish rule - from 712 to 1248, when Ferdinand III, the Christian king of Castilla y Leon claimed it as part of his conquest of Andalucía. There remain some classic examples of Moorish architecture, most notably the central section of the cathedral's bell tower, the Alcazar palace and the old city walls.
 The discovery by Christopher Columbus of the 'New World' in 1492 - on a mission which was given royal approval in the then-recently Catholicised Alhambra in Granada - ushered in Seville's 'Golden Age'. Until the end of the sixteenth century, Seville's port on the Guadalquivir (the only river port in Spain) guaranteed it monopoly of the Atlantic trading routes between Europe and the Americans, bringing it great wealth and prestige. If what other Spaniards say about Sevillanos is true - namely, that they have a certain haughtiness of manner, almost arrogance - it is perhaps an atavistic pride, traceable to the time when their hometown was the commercial centre of Spain and, arguably, Europe.
Along with Jerez and Cadiz, Seville's gypsy neighbourhood Triana is considered one of the most important locations in Spain (and therefore the world) for flamenco. Together, the 'Golden Triangle', demarcating an area of Andalucía in which 'cante jondo' - the 'deep song' so characteristic of menco singing - is said to have originated and developed.
The Museo del Baile Flamenco in Santa Cruz, the city's old Jewish quarter, puts on excellent nightly shows of this powerful, complicated music, which in its earliest manifestations was just a lone voice, a solo lament. On the opposite bank of the Guadalquivir from Triana sits Seville's stately eighteenth century bullring. Some of the greatest practitioners of the spectacle that takes place within it also came from the streets of Triana. 
CORDOBA
One of the many pleasures of visiting Andalusian cities is stumbling upon beautiful private courtyards or patios filled with sweet-smelling, colourful plants and flowers. Usually, these charming oases of cool and calm - both of which are in permanent short supply in Andalucía, particularly in summer - are out of reach behind locked gates, but during May in Cordoba they are opened to the public as part of the city's annual patio competition. Every year, around 50 carefully-cultivated and designed patios and courtyards compete for the honour of being the most attractive in Cordoba; the prize is awarded at the end of May, just before the city's annual fiesta kicks off.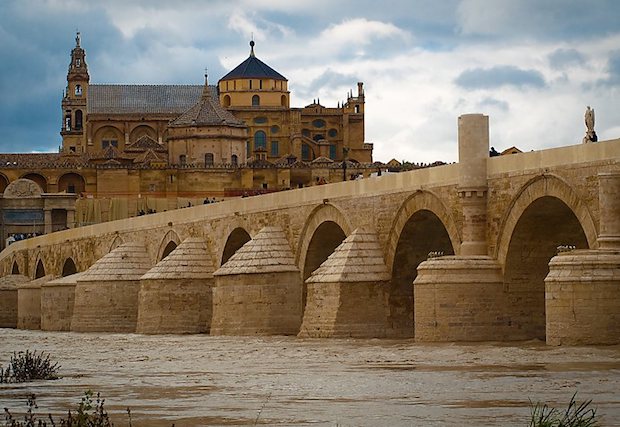 Though only made the centrepiece of a formal competition a hundred years ago, these walled-in patios have been a feature of Andalusian architecture since Roman times. They form a kind of open atrium at the core of older buildings, helping to keep them cool in the hot, dry climate. During Cordoba's great Moorish period, these hitherto-functional patios were transformed into verdant, aromatic havens in which refuge could be sought from Cordoba's blistering temperatures (often in excess of 40 degrees during the summer).
Between 756 and 1031, Cordoba was the sophisticated, cosmopolitan capital of Al-Andalus - Moorish Spain - and one of the world's most important cities: Muslims, Jews and Christians mixed together at every level of society and pioneering work was carried out in medicine, mathematics and astronomy. The city's awesome 'Mosque-Cathedral Monument Complex' (to give it its proper name, only recently decided upon by warring authorities) speaks eloquently - and often controversially - of this civilised pluralism.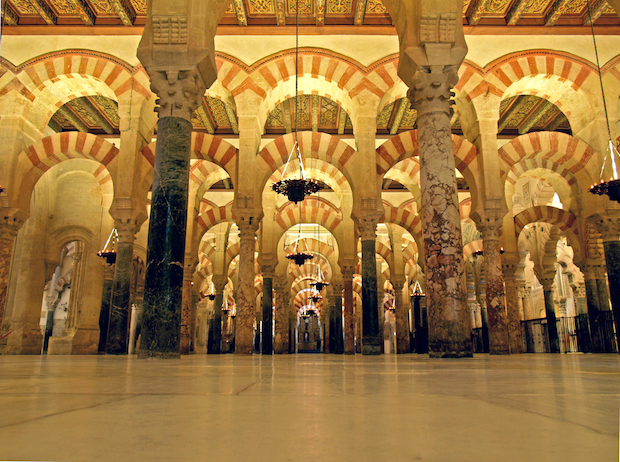 Started in the eighth century, it was finally finished in the tenth century with the addition of its fourth and final section. The rampaging Christian king Ferdinand III brutally terminated the city's Moorish rule in 1236, but was apparently so amazed by the mosque that he let it stand. It was thus left to the less scrupulous Charles V to build a Catholic church on top of it in the sixteenth century, although he is said to have been dismayed by the final result.
Whether viewed as a monument to religion pluralism or vandalism on a colossal scale, there is nothing like this building anywhere else in Spain: a Renaissance cathedral squatting on top of a delicate mosque, a place for Christian worship set amongst the elegant arches of what was once the greatest Muslim prayer room in the world. Only in March this year did the Catholic church agree to its current, rather convoluted name. It had wanted to simply call it a cathedral, which opponents said was an attempt to obscure, by omission, the buildings Muslim origins.
The iconic arches of the mosque-cathedral are replicated in the grand entrance to Cordoba's feria site, which hosts one of Andalucía's most extravagant social events in early June. But if you need a break from the larger-than-life partying, stroll into town early evening, where you can watch the sun set over the Guadalquivir: it passes under Cordoba's Roman bridge, languidly weaving through Andalucía on its way down to Seville, whose fortune it made, before flowing out into the Atlantic.
GRANADA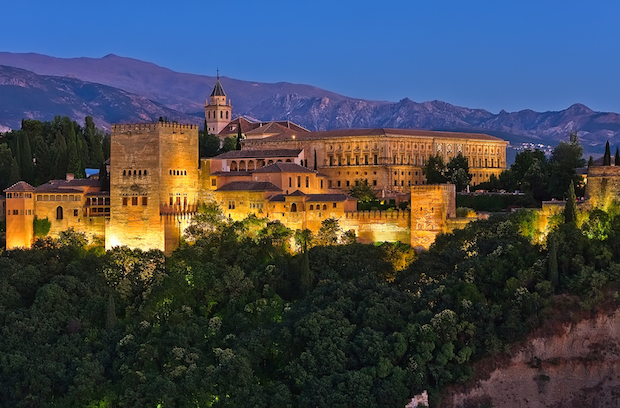 The enchanting, somewhat bohemian city of Granada is now famous for its incredible variety of free tapas as well as it's Moorish legacy. Duck into any one of the ridiculous number of bars lining the streets and squares and you will receive, with your very cheap drink, a small plate of something to eat. And whatever it is - fried fish, stewed meat with bread, tortilla, paella, cured jamon drizzled in olive oil - it will come at no extra cost. Perhaps because they're aware of the immense competition, waiters in Granada care what you think of their establishment's tapas: if they see you're not touching it, they'll ask you whether you'd prefer something else - also for free. And if you see large groups of drunken men stumbling around in bullfighter's outfits on Saturdays and Sundays, yelling good-natured abuse at each other through megaphones, don't be alarmed. The city's tapas culture also makes it a top choice for Spanish stag parties.
Finally conquered by the proselytising Catholic monarchs Ferdinand and Isabella in 1492, Granada was the last Moorish stronghold of southern Spain, and relics from its great Arab epoch abound throughout the city. Most emblematic of them all is the mighty Alhambra fortress, which sits atop the steep, lush Darro valley, against a dramatic backdrop provided by the peaks of the Sierra Nevada. Originally dating from the ninth century, the fort and walls were extensively rebuilt in the 1200s by the Moorish ruler of the Emirate of Granada, Mohammed ben Al-Ahmar.
The Alhambra's forbidding, plain-brick walls (its name in Arabic means "The Red One") provide a stark contrast to its interior, in which a fastidious, intricate style dominates. No less captivating are the carefully-landscaped gardens which, for maximum romantic effect, should be visited on a warm summer evening as the sun sets over the old Arabic neighbourhood of Albaicin. It's hard to think of a better spot in which to engage with the Moorish soul of this city.
Situated directly across the Darro valley from the Alhambra, extending up a steep hill, Albaicin is a tangle of tightly packed whitewashed houses, the exteriors of which are chaotically decorated by terracotta pots overflowing with blood-red geraniums. Its cobbled streets wind between scruffy white walls, over which you can glimpse and smell the brightly-coloured flowers of hidden terraces. You couldn't be anywhere else than in southern Spain, yet the Moorish arches and faded patterns on building facades remind you that this was a land ruled by Arabs for seven hundred years: indeed, Albaicin was once home to 28 mosques. Happily, some of the more homogenising aspects of modernity have not reached this neighbourhood, and if a starbucks ever opens here it will be a tragedy.
The neighbourhood of Sacromonte is, if possible, even more seductive than Albaicin. When the gypsies arrived here in the eighteenth century, they brought a type of flamenco known as 'zambra' with them: this raw, emotional dance - most authentically performed barefoot - is on show nightly in the neighbourhood's distinctive blue and white caves. The most stunning views of the Alhambra - even more jaw-dropping at night than in the day - are from Sacromonte's 'main' road, the 'Camino del Sacromonte', which snakes through the caves, shacks and cacti into the hills and mountains beyond Granada.