Short City Break In Venice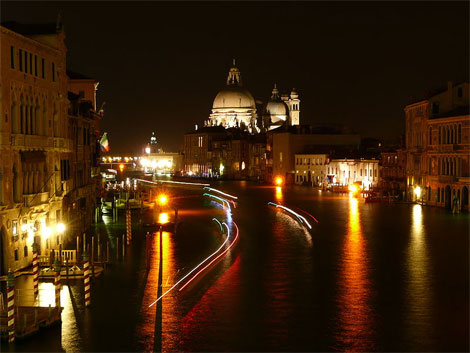 Venice is Italy's most romantic city and one of the jewel of the Adriatic. Its glorious mix of Renaissance and Byzantine architecture, gondola-lined canals and beautiful bridges has inspired poets and painters through the ages. For centuries Venice was one of the grandest cities in the world. Modern day Venice still is impressive, packed with lavish palaces, ornate churches and great works of art, and it wonderful watery landscape hasn't changed much in three hundred years.
Take a vaporetto (water bus) ride along the Grand Canal- a two mile long waterway lined with houses rising straight from the water and crossed by the famous Riatto Bridge. The Grand Canal flows into the lagoon near St. Mark's Square, the city's spectacular main piazza. It's surrounded on three sides by elegant colonnades and expensive cafes.
Some of the most important landmarks are here in St. Mark's Square, including St. Mark's Basilica an enormous domed church which contains fabulous mosaics and the Pala d'Oro, a golden altarpiece encrusted with 2,000 precious gems. Visit the Accademia Gallery; it has the world's best collection of Venetian art, including works by Tintoretto, Veronese, Titian and Canoletta.
Other sights not to miss include the view from the top of the 100m St. Mark's Bell Tower and the nearby Riatto area with it food markets where fish, fruit and vegetables and spices have been sold since medieval times. There are also shops selling designer goods and locally-made Venetian masks, Murano glass and marbled paper.
One of the city's loveliest experiences is leaving the crowed behind and getting lost in its back streets. In these winding alleyways, criss-crossed by narrow canals, you'll find peaceful squares, pretty churches and picture perfect views around every corner.