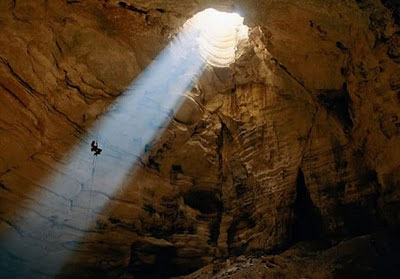 When I read of places like the Sotano de las Golondrinas (Cave of Swallows) a huge 1200ft pit in Mexico that could swallow the Empire State Building, and the Oman monster, known as Majlis al Jinn (Meeting Room of the Spirits), the second largest cave chamber in the world. It only leave me with a certain amount of respect and admiration for caves most for all for those that make it fun to explore as a hobby. We have collated a list of caves for your next adventure in some of the world's most striking geographical locations.
The Tube in Belize
The tiny Central American country of Belize is blessed with a vast labyrinth of underground passages, caverns and chambers, many of which are submerged in water, making the seven-mile Caves Branch river system a top destination for cave-tubing. Hop on the rubber inner tube, flick on your headlamp and float through the darkness of a subterranean stream for an eerie adventure. This is where the ancient Mayan people performed rituals such as bloodletting and sacrifices.
The Dark in Thailand
The province of Phang Nga in the south of Thailand is full of mysterious sea caves, wave-sculpted tunnels and hidden lagoons – known as hongs – that can only be accessed by water. Journeying through the region in a kayak or canoe is an outstanding eco-friendly adventure that will unlock the keys to a magical world upon which few other tourists will ever set their eyes.
The Hole in England
If you're feeling brave and didn't soil yourself on your first caving trip, head to the Yorkshire Dales for a spot of potholing. The word 'pothole' is traditionally a northern term for vertical caves, so you'll be going up and down rather than crawling around on all fours. Potholing involves abseiling, climbing up ladders, hoisting yourself up waterfalls and squirming through tight tunnels. Lock yourself in your office's ventilation shaft for an hour each day as training.
Worm Around in Wales
Yes, you can explore caves all over the planet – but we've got some good 'uns here, too. The Brecon Beacons is one of the UK's foremost locations for caving – that's exploring an underground labyrinth 'horizontally' by wriggling through tunnels, squeezing between boulders and wadding along submerged streams. The Welsh have given their assorted crevice names such as the Worm Hole, the Rat Trap, the Letter Box and wait for it, Death Ledge.
New Zealand
Given that there are so many tunnels, caves, sinkholes, grottos and other assorted chasms just waiting to swallow you up beneath the rural New Zealand town of Waitomo, we're amazed anybody even tries to walk around there. The place is practically built on Swiss cheese, so best follow tourists and get yourself underground sharpish, before you fall down there anyway. The pick of the adventure on offer is a 100m abseil into the Lost World (Waitomo's biggest dangling and is polished off with a sweaty clamber back up through caverns and a quick peek at the resident glowworms.
Sleep Under in Australia
The Desert Cave Hotel is a giant underground hotel in the Australian outback, which offers "a unique underground experience at down-to-earth prices", said the owners. It's even got its own subterranean bar and pool room. You'll feel like going back to your primal cavemen roots, only you have a TV, internet access and a minibar.
The Bat Cave, Malaysia
At a mile long and up to 700ft high, it's the largest cave passage in world and could hold St. Paul's Cathedral five times over. It's affectionately called the 'Deer Cave' but that eerie squeaking you hear as you enter is the sound of three million wrinkle-lipped bats getting ready for a nocturnal feeding frenzy. Buried beneath Malaysia's Gunung Mulu National Park on the island of Borneo, Deer Cave plays host to a remarkable natural spectacle at dusk each day, when the bats leave the cave in search of food; they form a dark shadow that blackens the sky.