Ice Hotel Jukkasjarvi, Sweden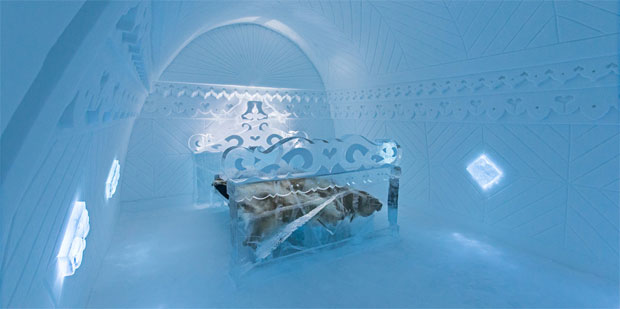 2015 marks the twenty-fifth year the Jukkasjarvi village IceHotel has been in operation. The village of Jukkasjarvi comes alive each winter when the hotel is recreated by carving and chiselling out tons of snow and ice from the nearby Torne River - which is really as much an art installation as a novelty hotel.
Hundreds of artists from all over the world apply each year to design one of the hotel's art suites. The themes of this season's 15 artist-designed room include love and the changing seasons. Last winter's included Greek mythology and London Underground.
There's an ice church for weddings, guest seated on ice benches covered in reinder pelts and the Ice Bar - now also in Stockholm and London - where you can hold a vodka and lingonberry juice served in an ice glass in your glove.
Apart from hotel the IceHotel has put together a number of other indoor and out door activities such as Abisko Mountain Lodge, snowshoe trek, ice safari, aurora photography.