Thanks to its rich history of skiing and other winter sports, SalzburgerLand is usually associated with action and exhilaration. But the whole area around the city of Salzburg is also a fantastic place for relaxation, thanks to its wealth of thermal spas (or 'thermen').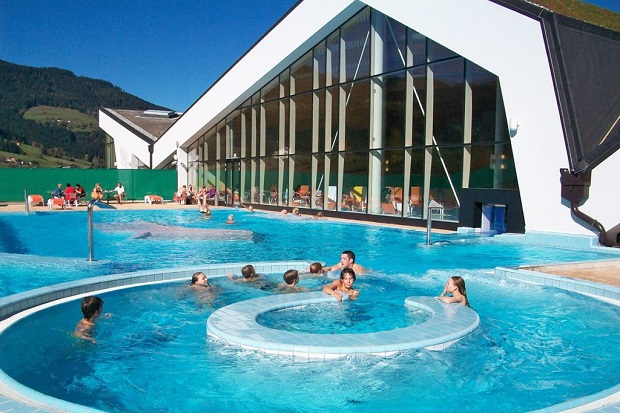 These spas use water from local hot springs, allowing them to keep a constant warm temperature and making them perfect for relaxing and recuperating. Thermen are one of Salzburg's best-kept secrets, and the variety of them around the city and surrounding areas isn't well-known outside of Austria. Once you've started exploring them, though, you'll wonder why more people don't know about this marvellous alpine pastime.
There are several spas around Salzburg, but you should also consider making a short journey out of the city into the beautiful surrounding areas to indulge in some mountainside bathing.
Head south of the city to Tauern Spa in the popular Zell am See-Kaprun region, sitting at the foot of the Kitzsteinhorn Mountain and surrounded by incredible scenery. There's a vast 20,000 square metres of spa action to lose thermen, a panoramic spa with a glass 'skyline pool', and 13 different saunas and steam baths. It's pretty much impossible not to be totally chilled-out after a visit here.
Or try Therme Amade Spa in Altenmarkt, just 45 minutes from Salzburg. Here you'll find more luscious natural scenery to gawp at while you soak and soothe yourself into a state of bliss. There's an alpine-style panoramic sauna, a rose-quartz pool and even some exhilarating water slides for those who want to break up the relaxation with a dose of adrenaline. Plus, you can enjoy the usual extensive range of health treatments, such as massage or – for those who want to mix it up a little – a 'black mud treatment' session in a steam grotto, using mineral-rich ooze from the Black Sea.
Remember that a key part of the appeal of thermen is alfresco swimming – delightful in both summer and the depths of winter. Don't worry if it happens to be below freezing outside, the thermal water will always keep you toasty, making it a unique experience.
So if you're going to Salzburg to ski, why not combine it with a trip to a thermal spa? Bathing in the fresh, naturally hot water is a fantastic way of rejuvenating muscles after you've been hurting down the slopes. Or get a sweat on, perhaps at one of the city's many Finnish saunas. To get the most of this experience, read up on the etiquette and technique, and sauna like the locals do – you'll soon see why everyone in Salzburg looks so healthy and happy.
What this all adds up to is that a relaxation or wellness holiday in SalzburgerLand isn't just 'downtime'. Frankly, it's a huge cut above your usual 'spa day' that you might treat yourself to every once in a while. The range of options on offer, the incredible scenery and the natural spring water make visiting a therme in Salzburg a whole fresh experience in itself, and one that everybody should try. As soon as you're in that perfectly warm water, we're pretty sure you'll agree-and you'll have plenty of time to reflect on it all when you're settled in, as you certainly won't be going anywhere for a while.