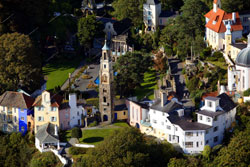 Follow the warm Gulf Stream around the majestic coast of Wales to Snowdonia and you will find will find nestles amongst the cliffs Portmeirion, an Italianate inspired resort.  The eccentric collection of cottages, follies and status in bright pastel colours of pinks, yellows, blues and green cannot fail to capture the imagination.
Portmeirion was the brainchild and lifelong work of visionary architect Sir Clough Williams-Ellis who first began planning its construct as a boy aged six! After searching many small islands around Britain's  coast as an adult he found the perfect location on a private peninsula.  Building work began in 1925 and was finally completed in the early 1970s when Sir William-Ellis was in his nineties.  More than a folly or private monument, from its inception, Portmeirion was intended to be a demonstration of how a naturally beautiful site could be developed sympathetically.
Portmeirion was made famus in the 1960′s as The Village in the cult classic TV series The Prisoner.  However, after walking amongst the colourful buildings and beautiful gardens of this extraordinary location you will never want to escape.  There is something new to be discovered at every turn.  Around one corner you may find a giant gold Budda, around the next a beautiful Mediterranean piazza and then next stumble upon a Chinese pagoda.  The sub-tropical Victorian gardens lead down to white sandy beaches and feature unique rhododendrons, Californian coast redwoods, New Zealand's dancing tree, and the tallest Chilean maiten tree in the UK.
Surrounded by mountains and sea, the village has many colourful shops and restaurants including Castell Deudraeth, The Hotel Portmeirion, The Terrace Self-Service Restaurant, Cadwalader's Ice Cream Cafe and Caffi Glas Italian Cafe.
All the Cottages in the village are let as suites and rooms as part to the Hotel Portmeirion.  There are also 17 self-catering cottages sleeping from three to eight people.