Add Wrocław to Your Must Visit List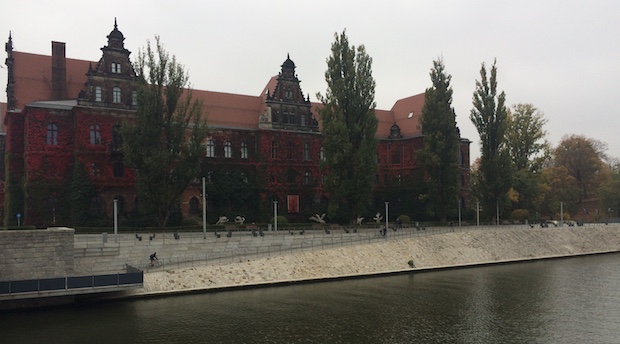 With an idyllic location, incredible architecture and a vibrant social scene. Wrocław is the next city to add to your must - visit list. Word is spreading about this unique spot in the south west of Poland - Wrocław recently beat the likes of Athens, Amsterdam, Budapest and Paris to clinch this year's top prize at travel site European Best Destinations' annual awards. Anyone who's visited before is sure to have found a reason to shout about Wrocław.
Located on the Odra River, the city has more than 100 bridges, lending it the nickname 'Venice of the North'. it has a rich history that's visible on every street corner. Ostrow Tumski (Cathedral Island) is widely considered to be one of the most beautiful surviving sacred sites in Europe, with a number of religious buildings that are still used by the people of Wrocław. They span a wide range of architectural styles, with the oldest churches dating back to the 10th century. The nearby medieval Market Square is the perfect place to head for a stroll afterwards, with rows of houses painted in bright colours making for a vivid backdrop.
More recent examples of architecture are also well represented in the city, with the imposing Hala Stulecia (Centennial Hall) designed by architect Max Berg between 1911 and 1913. It's celebrated as an early example of reinforced concrete architecture, topped with an impressive 23-metre high steel and glass dome. Its significance as a pioneering example of design was recognised in 2006 when it was listed as a UNESCO Heritage Site. Today, it's a multi-purpose events space, playing host to thousands of spectators who come to watch sports events and concerts.
Taking in all of the sights is easier than you'd think due to Wrocław's easily navigable layout and transport options. bike routes run along the river, or electric cars and scooters can be rented - the first scheme of its kind in Poland.
Wrocław's cultural offering continues to attract attention across the world. It was named the European Capital of Culture in 2016, with more 1,000 events held throughout the year to celebrate.
This was far from a one-off though; Wrocław has a number of prestigious festivals all year round that draw an international crowd. The New Horizons International Film Festival pays homage to innovative cinema with 10 days of screenings, talks and exhibitions, while brave Festival - Against Cultural Exile aims to save overlooked or neglected cultures through musical performances. Wrocław also hosted the 2017 World Games, the international sports tournament for disciplines not contested in the Olympic Games.
The games are gone but you can take part in one of our own, by trying to see how many of the Wrocław's dwarfs you can find. I was there for a day and found about 8. It is said there are over 400 of these dwarfs dotted around the city.
With so any people descending on the city to compete or perform, it's no wonder that it's picked up some famous fans - Steven Spielberg loved Wrocław so much that he decided to shoot scenes for the thriller Bridge of spies here, while author and Man Booker prize winner Olga Tokarczuk lives here and draws inspiration from the city in her work.
Thanks to its acclaimed university, Wrocław has a large student population, ensuring a vibrant and energetic atmosphere can be found in the buzzy bars and cosy cafes. After a day of sightseeing, treat yourself to a bowl of Polish dumplings (Pierogi) and a craft beer, before venturing out into the night to work it off on one of the city's many lively dance floors.
It's not just tourists and students who are discovering the delights of this city - Wrocław is renowned for its work/life balance which has seen it named Poland's top spot to relocate by various studies. It's strategically situated between Prague, Warsaw and Berlin, yet the cost of living here is up to 40 percent cheaper than in the German capital.
With residents and visitors alike enjoying all Wrocław has to offer, maybe it's time to check out for yourself.